6 Bedroom Vacation Rentals by SunKiss Villas are great for large families or 2 families with a total of 12 guests or less. Some of our 6 bedroom vacation rentals will accommodate up to 14 guests but for your comfort we recommend a total of 12 guests or less. Our Beautiful 6 bedroom vacation rentals are located in nice communities near Disney World. Universal Studios, Seaworld and all the great Orlando attractions are close to our homes as well as shopping, groceries, restaurants and much more. And if you want to go a bit further you can also visit Kennedy Space Center or either coast, both just 1.5 hours drive. All of our 6 bedroom vacation rentals near Disney World have private pools. Some have game rooms, gas BBQ grills, wireless broadband and more. All homes are fully equipped, air conditioned and include towels and linens as well as washers and dryers. It's just like walking into your own home.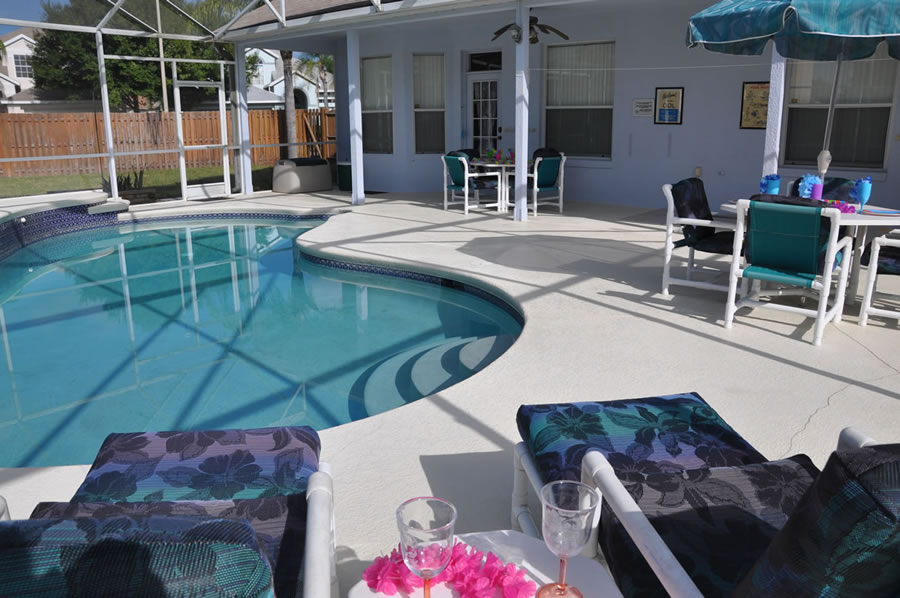 SunKiss Villas has great rates for our 6 bedroom Vacation Rentals and chances are good that you won't find a better deal anywhere else. Stop racking your brain searching through website after website looking for a nice home and the best deal when you've already found it here.
View the summary of each of these beautiful 6 bedroom vacation rentals in the list below. Click the picture for more details, pictures, rates, and testimonials from previous guests. Then once you've found the home you like best you can check the availability from the property page and make your reservation through our secure online reservation system. Or if you prefer to talk to someone who can help you reserve please call us. We want you to have a great vacation and we are happy to help. Our 6 bedroom vacation rentals book up fast so don't wait to reserve the home you want. Call is if you have any questions or need help.
And Don't Forget Your Discount Attraction Tickets!
Grand Heron Villa features 2 King Master Suites, 1 Queen Bedroom, 1 Double Bedroom, and 2 Twin Bedrooms. There is plenty of room for everyone and you'll love this beautiful home and want to return as often as possible. FREE WiFi is included…..
More Info
Bedrooms: 6 | Baths: 5 | Sleeps: 12 | Private Pool & Spa | Pets: No
Endless Summer vacation home in Solana Resort is a beautiful vacation home with plenty of room for the family. It features three King Master Suites  with En-Suite bathrooms as well as a queen bedroom and 2 twin bedrooms, the perfect home for large families. With gorgeous views and amenities like cable TVs in all bedrooms, FREE WiFi, game room and more…..
More Info
Bedrooms: 6 | Baths: 5 & 1/2 | Sleeps: 12 | Private Pool & Spa | Pets: No
This beautiful 6 bedroom, 4 bath executive villa is only minutes from Disney and an absolutely stunning place to spend your vacation. It is situated on a huge corner lot with plenty of space and privacy fence. With great features and amenities that include FREE WiFi, huge covered lanai, FREE spa heat, Game Room, Gas BBQ and more you'll have a wonderful vacation…..
More Info
Bedrooms: 6 | Baths: 4 | Sleeps: 12 | Private Pool & Spa | Pets: No