Why Choose SunKiss Villas For Your Vacation Rental?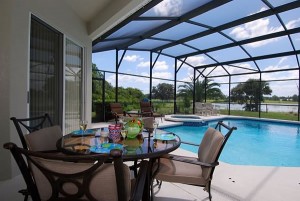 Many people ask the question why should I stay at SunKiss Villas rather than stay in a Disney Resort or other hotel? Well, here are just some of the great reasons to only stay at SunKiss Villas.
You'll have an entire house. Even though Disney Resorts are very nice they still don't compare with having a whole house to yourself rather than a couple of hotel rooms. You have the privacy you want for your family and the room to spread out. You don't have to worry about being annoyed by other guests when you stay at SunKiss Villas. Your family will have their own rooms and most of our homes have cable TVs in every bedroom.
You'll have your own full kitchen. The money you save on food you can prepare yourself rather than eating every meal at a restaurant could pay for all your park tickets. Everyone knows how expensive it is to eat out and if you are staying in a hotel room that's all you'll be able to do (or order room service). When you stay at SunKiss Villas you could even save time in the parks, if you make some of your own lunches, so you don't have to wait in line for your food.
You'll have your own private pool. Wouldn't you prefer not having to walk to the pool in your swim suit? Just step out the back door of your SunKiss Villa and your next to your own private pool. You can even have a pleasant meal beside your own pool.
Save Money. How much would it cost for enough hotel rooms to accommodate your family? Chances are very likely that the cost of our homes would be far less than you would pay for hotel rooms.
You get the home you see. When you find a home on SunKiss Villas that you like, and click "Reserve Now", you are reserving the home you see in the pictures, no surprises. All of our homes are professionally managed and well cared for. All the information for our villas is on each of the property pages, including a list of amenities, location map, availability calendar and more.
We've been in business over 12 years. We've been renting Disney area vacation homes to guests from all over the world for over 12 years so we know what we're doing and what guests want. You can be sure you are dealing with a reputable company that is accredited with the Better Business Bureau of Central Florida and has earned an A+ rating.
We are committed to Quality. You deserve a great vacation and we want you to have a great experience from your first contact with with SunKiss Villas to your moment you leave to travel back home. Our guests are our best advertising. When our guests have a great experience they go home and tell their friends and family how great their stay was as well as plan their next trip back to a SunKiss Villa themselves.
Enough said!! Why would you stay anywhere else? So what are you waiting for? Go ahead, make your reservation to stay at SunKiss Villas today. If you have any other questions please call us, we're more than happy to help. 407-479-8580.
And don't forget your Discount Attractions Tickets!